Normally visit Pavilion during lunch time... so normally no chance to try The Japanese Sweets, MOF... which is quite attractive and tasty looking from outisde...
Was so happy that a new Restaurant - Emperor Q (乾隆茶坊) Chin Se Casual Restaurant & Cafe just open opposite. This restaurant is origin from Singapore and was under the same management to the Japanese Sweets and they serve meals too.!!
in the restaurant can ''MOF" everywhere ... what's MOF? ~



MOF does not add in MSG, Chemicals, Preservatives, Artificial Colourings & Flavorings.

MOF donates part of nett profit to the charity.
There are too much variety of food to choose...
finally we ordered the Salmon on Hot Stone (三文魚石鍋飯) @ RM12.80
they cook it beside you before serving on to the table... so i cant take a pix before the ''stir''
it smell good and taste nice..!! the soy sauce taste is special
top up RM2.00 for a steam egg
Cod Fish Mee Suah (XO雪魚麵線) @ RM24.80
the XO cod fish
mee suah in herbal soup
we are so full finishing the food.... but the dessert is a ''must to try''...
Sesame Zen @ RM13.50 (red bean with pearl and black sesame ice cream)
the red bean blended.. the pearl is Q to bite.. and black sesame ice cream is rich..!! everything is so perfect.... quite sweet but still acceptable... =]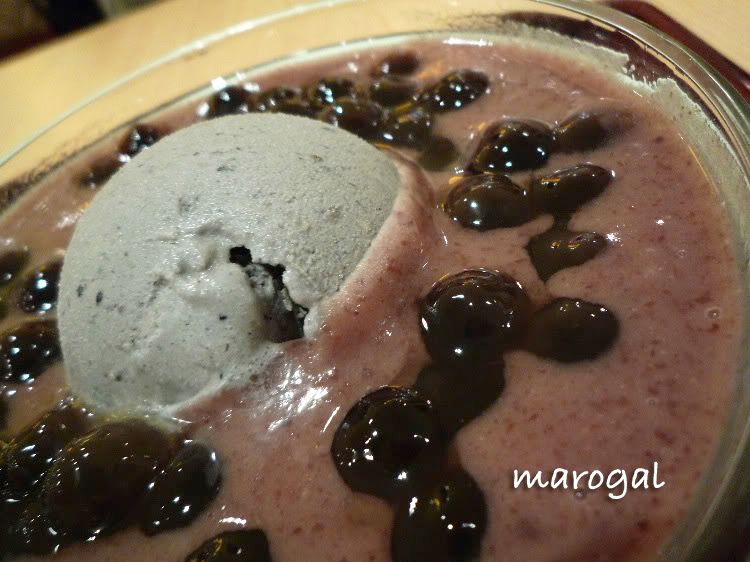 sign up as a member for RM10 a year can have 10% discount on all dishes
the food is quite pricy... but the quality is really worth it... further part of their net profit is donates to charity. we can enjoy while doing charity... haha
Found an article from the star newspaper :
link here
Chin Se Casual Restaurant & Cafe
1.59.00 Level 1, Pavilion KL,
No.168 Jalan Bukit Bintang,
55100 Kuala Lumpur,
Malaysia
-n-